HP Designjet T1600 PS Printer
HP DesignJet T1600 36" PostScript Printer: Meet tight deadlines with the fastest print speeds and the only automatic print stacking.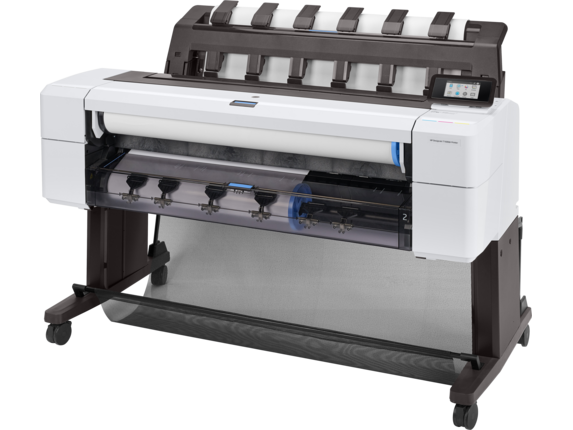 Adopt a smart workstyle with easy PDF printing using the HP Designjet T1600 PS and HP Click software.
Easily print and share jobs from the cloud with your mobile device and HP Smart app.
Fits your workplace with the most compact footprint and most quiet operation, with up to 87% less noise.
Showcase design versatility from precise line drafts to boldly colored 3D renders, with HP Bright Office Inks.
Provide the highest accuracy and display the finest details with the unique Adobe PDF Print Engine.
Meet deadlines with the HP Designjet T1600 PS fastest speed up to 180 D-size/ hour, and dual roll option.
Increase productivity with the 100 page integrated stacker
SECURE: World's most secure large-format printer
HP DesignJet T1600 PS at a glance ...

PRINTER TYPE
The DesignJet T1600dr PS uses 2-roll configurations and is optimized with Adobe PDF Print Engine

SPEED:
180 D/hr, 19.3 sec/D (180 A1/hr, 19.3 sec/A1)

INKS:
Ink cartridges: 6 (C, M, Y, G, pK, mK)
Printheads: 1 universal printhead

MEDIA:
Sheet size: 210 x 279 to 914 x 1219 mm
Roll size: 11 to 36 in (279 to 914 mm)
Grammage: 60 to 328 g/m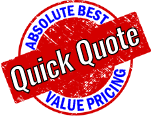 OUR PRICES ARE TOO LOW TO ADVERTISE,
but we can email our lowest price to you withen 24 hours if you use the form below to request it.
OVER THE LAST 37 YEARS
we have taken great pride in our reputation for offering outstanding service and deep discounted equipment and supply pricing.
We hope you will join our growing list of satisfied customers. (
Click for our Customers' Testimonials
)
We promise to do our best to earn your business!
Overview:
HP Designjet T1600 PS

Ink Type: Aqueous
Software available: HP Click, HP mobile, ePrint and iOS/Android support plus the HP Smart app for mobile, HP Web Jetadmin, HP JetAdvantage Security Manager, HP SmartTracker (optional)
Print speed: 180 D/hr, 19.3 sec/D (180 A1/hr, 19.3 sec/A1)
Print resolution: Up to 2400 x 1200 optimized dpi
Technology: HP Thermal Inkjet
Ink types: Dye-based (C, M, Y, pK, G); pigment-based (mK)
Ink cartridges: 6 (C, M, Y, G, pK, mK)
Printheads: 1 universal printhead Line accuracy: Plus / minus 0.1%
Minimum line width: 0.0008 in (0.02 mm) (PDF addressable @ 1200 dpi)
Media: Handling: Sheet feed, front-loading roll feed, roll switching , integrated 100 page output stacker, media bin, automatic horizontal cutter
Sheet size: 210 x 279 to 914 x 1219 mm
Roll size: 11 to 36 in (279 to 914 mm)
Grammage: 60 to 328 g/m
Connectivity: Interfaces: Gigabit Ethernet (1000Base-T), supporting the following standards: TCP/IP, BootP/DHCP (IPv4 only), DHCPv6, TFTP (IPv4 only), SNMP (v1, v2c, v3), Apple Bonjour Compatible, WS Discovery, Embedded Web Server (HTTP, HTTPS), IPsec, SMTP (email), Raw IP printing (9100), LPD, IPP, WS print, NTLM v2, SMBv3, SSL/TLS, 802.1X authentication (LEAP, PEAP, EAP-TLS), DFS
Print languages (standard): PostScript Printer: Adobe PostScript 3, Adobe PDF 1.7, HP-GL/2, HP-RTL, TIFF, JPEG, CALS G4; Non-PostScript Printer: HP-GL/2, HP-RTL, TIFF, JPEG, CALS G4
Print languages (optional): Non-PostScript Printer: Adobe PostScript 3, Adobe PDF 1.7
Mobile printing features: Direct print from mobile apps on iOS, Android, and Chrome OS; email printing with HP ePrint and HP Smart app for iOS and Android Drivers: PostScript Printer: Raster, PostScript and PDF drivers for Windows, AirPrint for macOS; Non-PostScript Printer: Raster drivers for Windows, AirPrint for macOS
Designjet T1600 PS
DATA
SHEET