HP DesignJet T2600 PS MFP, sales, service, supplies.
Ultra-low prices on HP Designjet T2600 plotters.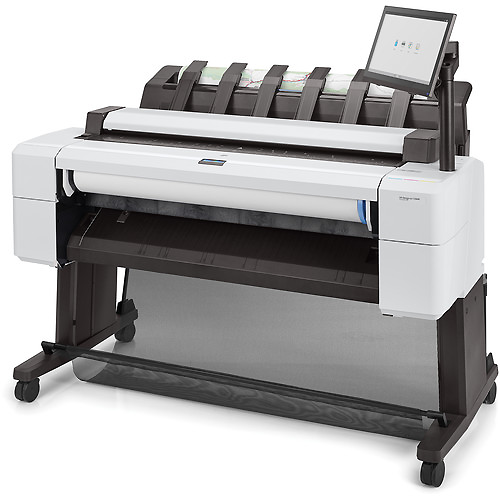 Radically simple experience with the HP Designjet T2600 Printer's 15.6-inch interface and the easy PDF printing with HP Click. Meet deadlines with speeds up to 180 D/hr, the industries only integrated stacker, and dual rolls. Engage in a collaborative workstyle with teams by quickly accessing shared folders to print and scan precise line drafts to boldly colored 3D renders. The Designjet T2600 is the most compact 36 inch All in with up to 87% less noise. Easily digitize your projects with automated scanning, user-centric quicksets, and post editing capabilities.
HP DesignJet T2600 PS at a glance ...

PRINTER TYPE
36 inch Inkjet Printer

SPEED:
Print speed: 180 A1/D hr, A1/D in 19.3 sec on plain media
Scan: Up to 3 in/sec (7.62 cm/sec) color at 200 dpi, up to 10 in/sec (25.4 cm/sec) grayscale at 200 dpi
Copy: Up to 6 in/sec (15.24 cm/sec) color at 200 dpi, up to 10 in/sec (25.4 cm/sec) grayscale at 200 dpi:

INKS:
Ink types: Dye-based (C, M, Y, pK, G); pigment-based (mK)
Printheads: 1 universal printhead

MEDIA:
Sheet size: 8.3 x 11 to 36 x 48 in (210 x 279 to 914 x 1219 mm)
Roll size: 11 to 36 in (279 to 914 mm)
Standard sheets: A4, A3, A2, A1, A0 (A, B, C, D, E)
Grammage: 60 to 328 g/m²
Thickness: Up to 0.5 mm (19.7 mil)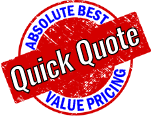 OUR PRICES ARE TOO LOW TO ADVERTISE,
but we can email our lowest price to you withen 24 hours if you use the form below to request it.
OVER THE LAST 37 YEARS
we have taken great pride in our reputation for offering outstanding service and deep discounted equipment and supply pricing.
We hope you will join our growing list of satisfied customers. (
Click for our Customers' Testimonials
)
We promise to do our best to earn your business!
Overview:
Technical Specifications:
HP DesignJet T2600 PS Multifuntion Printer
Product Type: Inkjet Printers
Ink Type: Aqueous
Width: 36 in
Print:
Print speed: 180 A1/D hr, A1/D in 19.3 sec on plain media
Print resolution: Up to 2400 x 1200 optimized dpi
Technology: HP Thermal Inkjet
Ink types: Dye-based (C, M, Y, pK, G); pigment-based (mK)
Printheads: 1 universal printhead
Line accuracy: ±0.1%
Minimum line width: 0.0008 in (0.02 mm) (PDF addressable @ 1200 dpi)
Multifunction capabilities:
Scan: Up to 3 in/sec (7.62 cm/sec) color at 200 dpi, up to 10 in/sec (25.4 cm/sec) grayscale at 200 dpi
Copy: Up to 6 in/sec (15.24 cm/sec) color at 200 dpi, up to 10 in/sec (25.4 cm/sec) grayscale at 200 dpi:
Scan resolution: Up to 600 dpi
Maximum scan size: Maximum scan width JPEG-36 x 315 in (914 x 8000 mm); TIFF-24 x 590.5 in (610 x 15,000 mm); PDF-36 x 315 in (914 x 8000 mm)
Thickness: 0.03 in (0.8 mm)
Scan format: JPEG, TIFF and multipage TIFF, PDF and multipage PDF
Scan destinations: USB, shared network folder, printer HDD, email
Media:
Handling: Sheet feed, front-loading roll feed, roll switching , integrated 100 page output stacker, media bin, automatic horizontal cutter
Scanner: straight-through scan paper path for sheet and cardboard originals:
Sheet size: 8.3 x 11 to 36 x 48 in (210 x 279 to 914 x 1219 mm)
Roll size: 11 to 36 in (279 to 914 mm)
Standard sheets: A4, A3, A2, A1, A0 (A, B, C, D, E)
Grammage: 60 to 328 g/m²
Thickness: Up to 0.5 mm (19.7 mil)
Applications: Line drawings; Maps; Orthophotos; Presentations; Renderings
Memory:
Hard disk: 500 GB self-encrypting
Connectivity:
Interfaces: Gigabit Ethernet (1000Base-T), supporting the following standards: TCP/IP, BootP/DHCP (IPv4 only), DHCPv6, TFTP (IPv4 only), SNMP (v1, v2c, v3), Apple Bonjour Compatible, WS Discovery, Embedded Web Server (HTTP, HTTPS), IPsec, SMTP (email), Raw IP printing (9100), LPD, IPP, WS print, NTLM v2, SMBv3, SSL/TLS, 802.1X authentication (LEAP, PEAP, EAP-TLS), DFS
Print languages (standard): PostScript Printer: Adobe PostScript 3, Adobe PDF 1.7, HP-GL/2, HP-RTL, TIFF, JPEG, CALS G4
Print languages (optional): Adobe PostScript 3, Adobe PDF 1.7
Printing paths: Direct printing from USB flash drive, print from network shared folder, email printing, HP driver for Windows, HP Print Service for Android, Apple AirPrint driver for MacOS and for iOS, HP Print for Chrome OS, HP Click, HP Smart App for iOS and Android
Drivers: PostScript Printer: Raster, PostScript and PDF drivers for Windows, AirPrint for macOS
Security features: HP Secure Boot, Whitelisting, TPM, Role Based Access Control, LDAP and Kerberos authentication, SNMPv3, HTTPS, Secure-IPP, IPsec/Firewall, Certificates management, 802.1X, TLS 1.0/1.1/1.2, HP Web Jetadmin compatible, HP JetAdvantage Security Manager compatible, Secure Disk erase (DoD 5220.22-M), Secure File erase, self-encrypting HDD, encrypted PIN printing, Syslog security logging
HP DesignJet T2600
DATA
SHEET