Customer Testimonials:
We are a Top U.S. Designjet Reseller.
We buy a huge number of HP Designjets. As a top national HP Designjet reseller our volume discounts allows us to sell HP Designjet printers for less. How much can you save when buying from Topaz? We are prohibited from advertising OUR ULTRA-LOW PRICING. The only way we can quote pricing is if requested. Take a minute to request a Quick Quote.
We are New England's ONLY HP Platinum Dealer:
Our fleet of vans travel throughout New England. HP's recognition of consistent, exceptional service and support. Our service fleet travels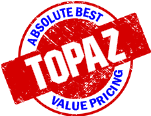 throughout New England supported by one of New England's largest inventories of parts. Our customers can rely on Topaz to install, maintain or repair their equipment the first time.
Ultra-low prices, exceptional service
- your absolute best value in Wide Format equipment and supplies.
Our customers' comments:
"
Great company and products.
Have given Topaz out to others who ask us about plotters and copiers. Supplies too.
"
L.R. - Cape Cod
"
Knowledgeable, professional service techs.
Everyone I have dealt with has been friendly and professional. Quality products represented and supported by quality personnel.
"

B.C. - Portsmouth, NH
"
Right on point, get on phone advise as needed,
fill orders for supplies in a day and not complaints with service techs.
"

G.Y. - Boston, MA
"
The service team is very responsive to issues
and works to get resolution. It is much appreciated.
"
L.H. Chelsmsford, MA.
"
Topaz fits our needs and we won't be looking any further.
"

O.N. - Bellingham, MA
"
Topaz has been our supplier since I found them
when I was with another company (I think about 15 years ago. Thank You.
"

B.F. - Marshfield, MA.
"
Topaz has been really easy to work with, and the fast delivery
is always a life saver as we aren't the best at planning ahead with that.
"

A.S. - Brookline, MA
"
Topaz has met all expectations regarding service, delivery
and consumables related to my printer and plotter. I am highly satisfied and wouldn't hesitate to recommend Topaz Engineering Supply.
"
D.R. - Franklin, MA.
"Very good business partner."
C.H. - Boston, MA
"
We have been a customer for over thirty years
and have always been happy with the products and service.
"

R.H - Weston, MA
"
We have been doing business with Topaz for more than 10 years.
They responded to our request for serive call within a reasonable time and always did a good job. Very happy!
"
C.M - Lakeville, MA
Partial list of Topaz service areas: Massachusetts, Boston, Cambridge, Quincy, Brockton, Taunton, New Bedford, Waltham, Burlington, Framingham, Marlborough, Lowell, Plymouth, Cape Cod, Hyannis, Worcester, Rhode Island, Providence, Cranston, Warwick, New Hampshire, Nashua, Manchester, Concord, Hartford, Connecticut